While it is not possible for Netsweeper to document the installation process for every available MDM, we have documented the process with Jamf. For most MDM management tools, the process will be similar. In such cases, you can use this example in conjunction with your MDM documentation to deploy the MacOS Client Filter.
Creating the Configuration Profile
Once you have downloaded the 'MacOS Client Filter All in One Profile (mobileconfig)' for your desired MacOS Client version, the first step is to create and push the Configuration Profile. In your Jamf Dashboard, navigate to Computers > Content Management > Configuration Profiles and select the Upload option. When prompted, upload your Netsweeper Client Filter Profile file.

Once uploaded, there are three Options to confirm: Certificate, System Extensions, and VPN.
Certificate
You can verify your Netsweeper Root CA Certificate details withing Configuration Profiles > Certificates, as shown: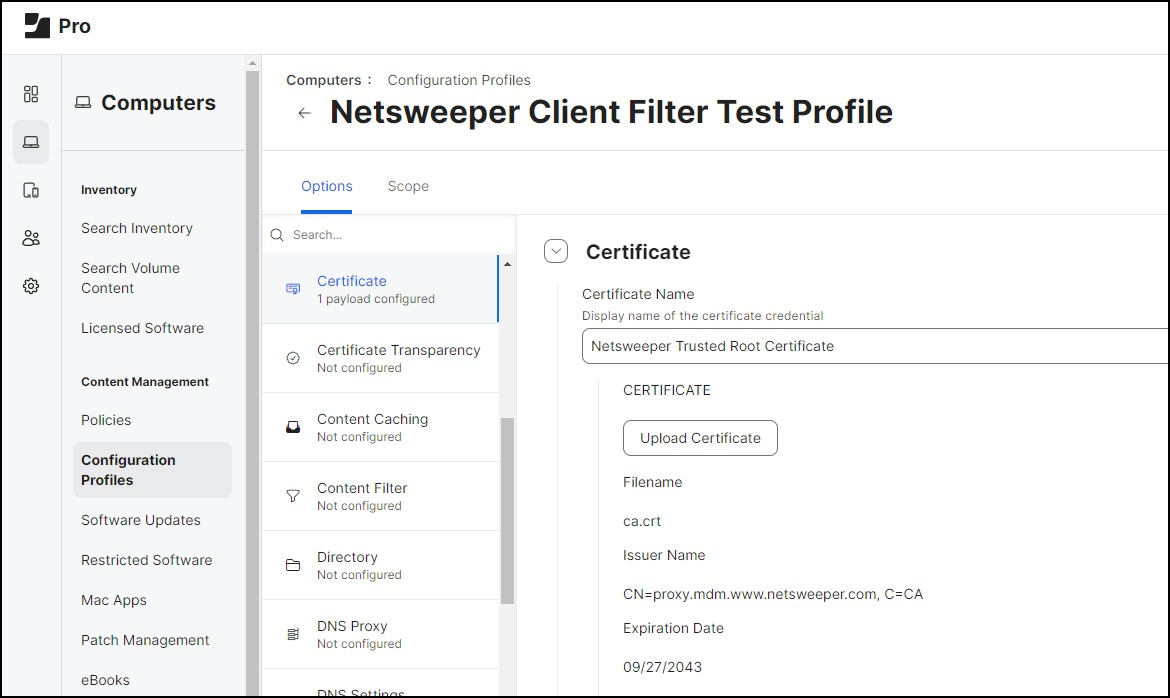 System Extensions
Configuration Profiles > System Extensions allows you to verify your System Extension options as well as add an optional Display Name and configure any of the additional options as per your organizational needs.

VPN
You will need to edit the NSCONFIGEDIT option within the Custom Data part of this section, as you would with any Client Filter installation.
To edit the Configedit option in Jamf, navigate to the Custom Data part of the Configuration Profiles > VPN section and select the Edit button to the right of the NSCONFIGEDIT field. Add your Configedit as desired. The following is an example Configedit that dictates your Policy Server, Client Filter WebAdmin Brand, and Policy Group, allowing for the rest of the settings to be specified within the WebAdmin Brand:
-p your.netsweeper.webadmin.com:3431 -y your_brandname -f 3147776
Finally, add your WebAdmin hostname or IP Address in the 'Server' field within the VPN section.

Add any additional configuration options to this section as per your organizational needs and when you are finished, select the Save option to complete your Profile.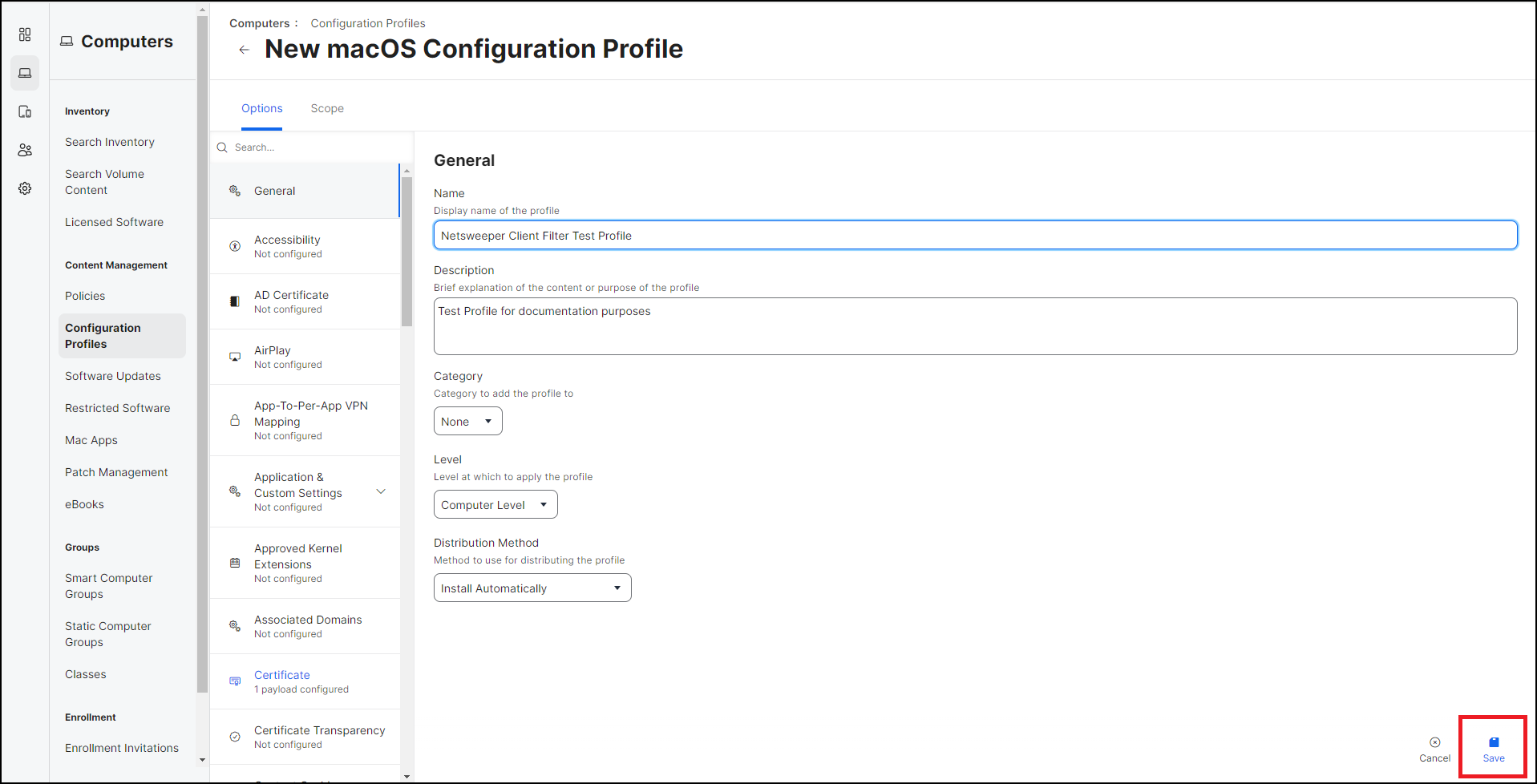 Troubleshooting Jamf Profile Configuration
If you have missed any of the above steps, Jamf will notify you by highlighting both the number of errors, as well as the sections containing the errors in red, as shown in the following example screenshot: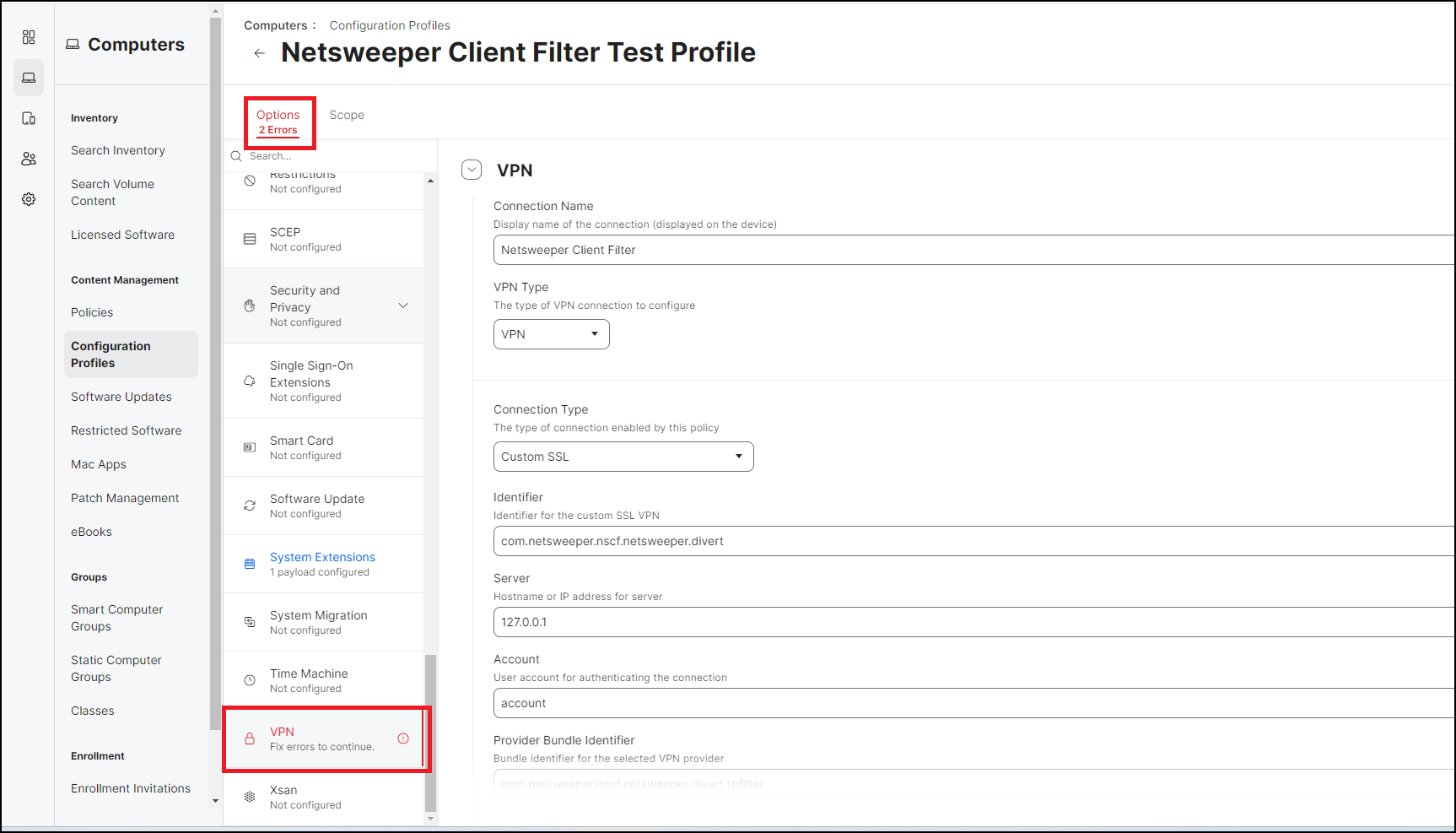 Verifying Jamf Profile Configuration
You can easily verify your Configuration Profile has been pushed successfully by accessing a managed MacOS device and searching for 'Profiles' in your settings.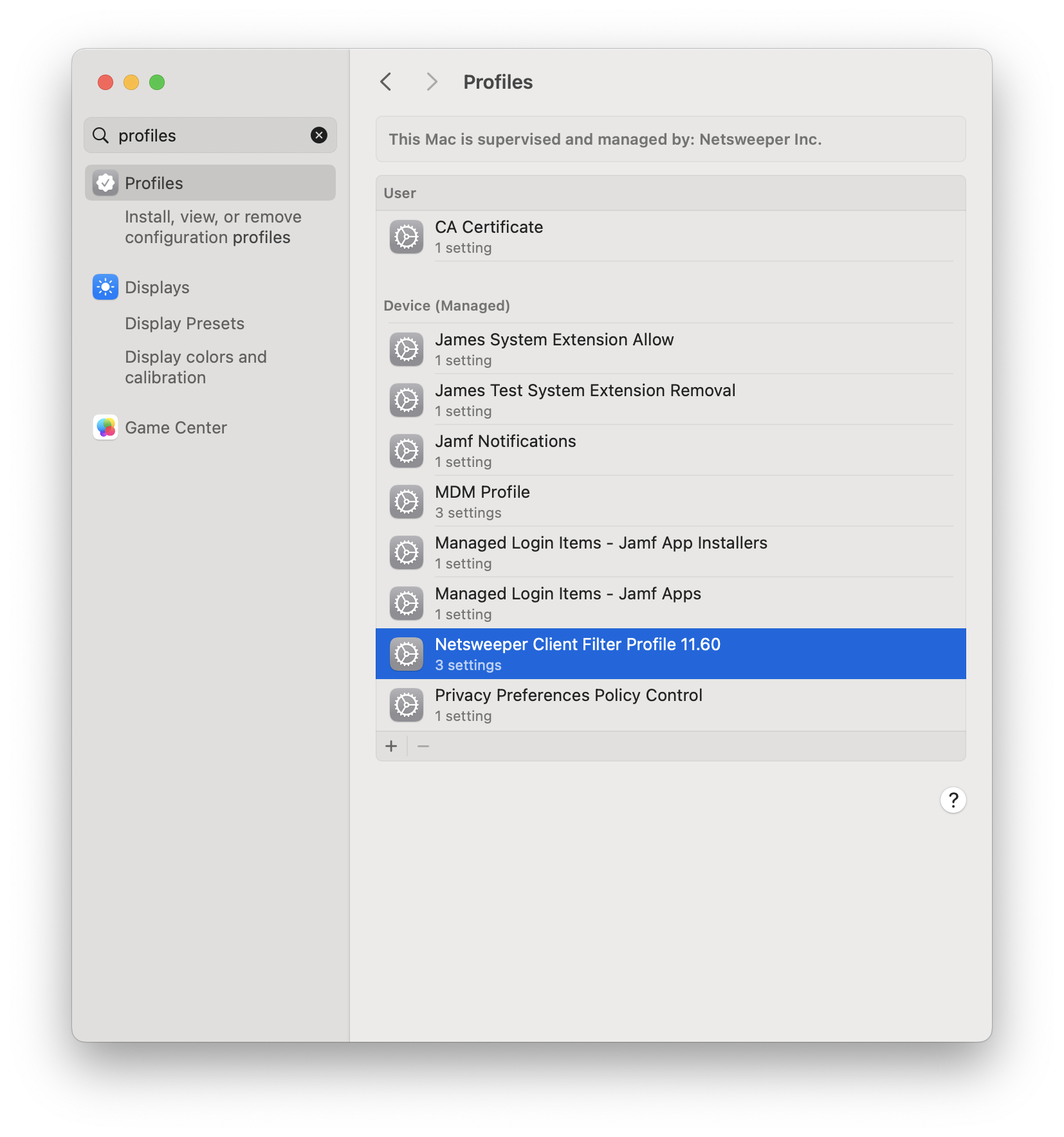 Select your new Netsweeper Client Filter Profile to verify the details.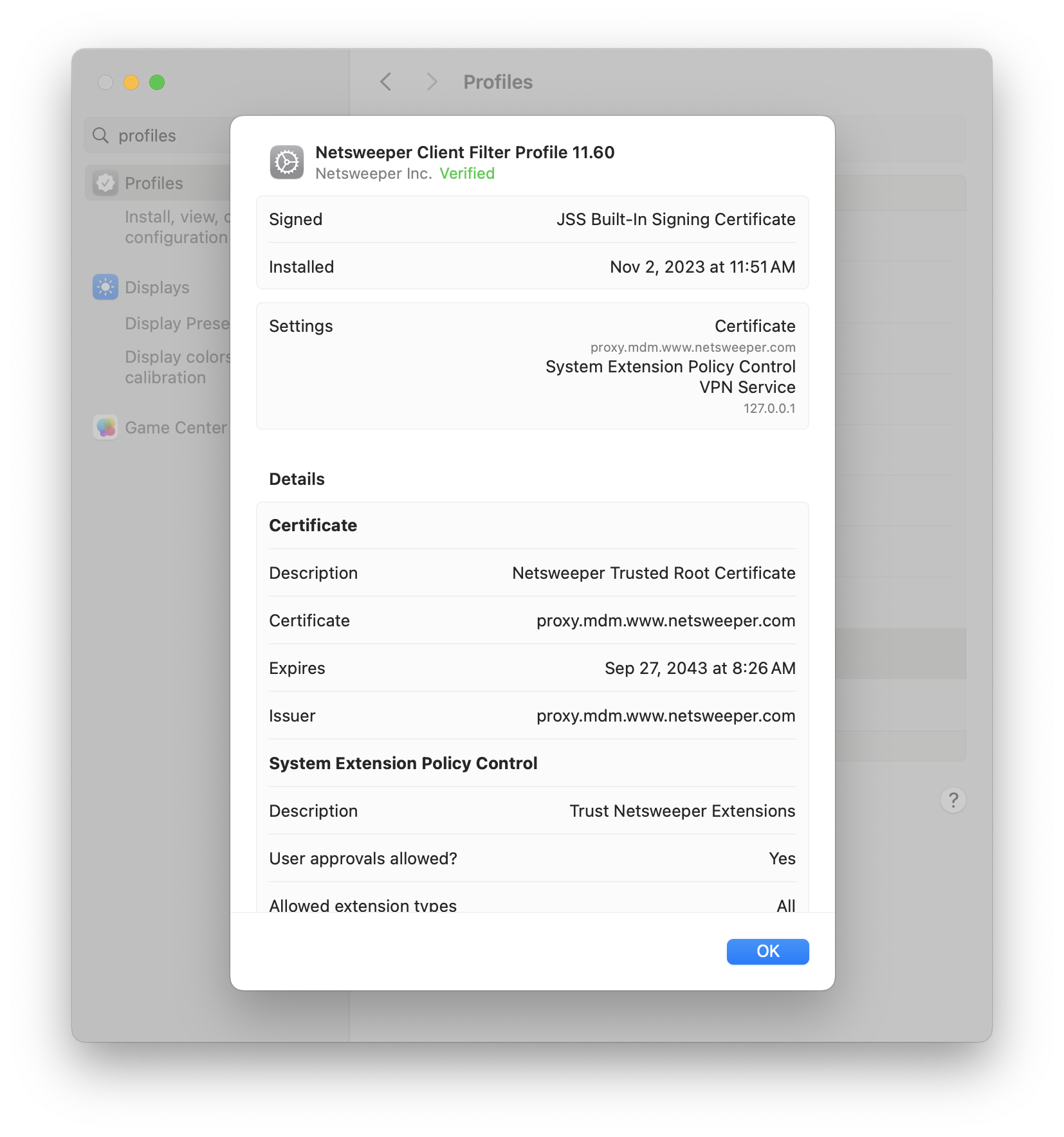 Once you have finished creating and verifying your Configuration Profile, you can go ahead and push out the application as you would with any other MDM-based app.
Jamf and iOS
The above process is nearly identical for iOS. However, there is no System Extension configuration for iOS. Furthermore, you will need to manually name your profile.
Jamf Pro versus Jamf School
Jamf School uses a different set of wildcards than Jamf Pro. Please refer to Jamf's Payload Variables documentation for the various options for your Jamf version.