Summary
Using OS-based Client Filter and Browser-based Client Filter simultaneously double-filtering.
If your organization uses Client Filter for Windows and MacOS, as well as the Chrome Client via Google Admin, this can lead to users being double filtered when using the Chrome browser on these Windows and Mac devices.
Resolution
In the Client Filter Settings > Filtering Exceptions, add an 'ALLOW ALWAYS' exception for exe://chrome.exe
as shown in the following screenshots.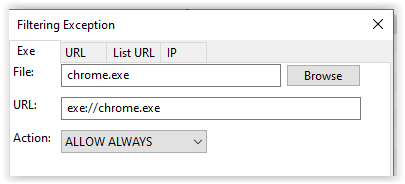 Save the new entry and you will see it in your Filtering Exceptions list.

This will stop the OS-based Client Filter from filtering your Chrome browser.
For more information on Netsweeper Client Filters, please refer to our Client Filter Documentation Hub.